Dynamic, diverse, invitingly walkable
Stock up on local produce at St. Lawrence Market. Check out home decor trends on King Street East. Build a sand castle at Sugar Beach. Enjoy dinner and theatre in the historic Distillery District. It's all strolling distance from your door in the vibrant St. Lawrence Market neighbourhood. See our estimated walk times below.
100% walkability
Check out our WalkScore!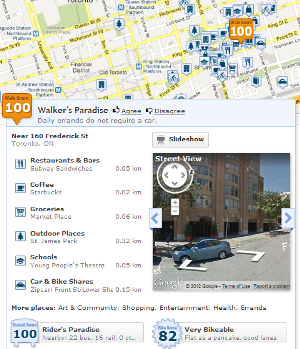 Did you know our building is located on an important heritage site? Learn more about Old Town Toronto
Find out what National Geographic thinks is so special about our neighbourhood.

Transit access
Yonge subway (King or Union), 10-15 minutes
King streetcars, less than 2 minutes
Queen streetcars, less than 10 minutes
Sherbourne and Pape buses, 2 minutes
Food and drink
Rabba (24 hours), 3 minutes
St. Lawrence Market, 5 minutes
Metro, Sobeys, No Frills, 5 minutes or less
LCBO (2 stores), 5 minutes
Work, shopping and errands
Financial district, less than 10 minutes
Banks/bookstores/restaurants/post office/home decor stores, 10 minutes maximum
Eaton Centre, 10 minutes
Starbucks, half a minute (on site)
Parks
St. James Park, Berczy Park, David Crombie Park, 5 minutes
Sherbourne Common, 12 minutes
Sugar Beach, 15 minutes
Arts and entertainment
Sony Centre, 9 minutes

Rogers Centre, 24 minutes

Air Canada Centre, 15 minutes

Elgin and Winter Garden Theatres, 15 minutes
Four Seasons Centre for the Performing Arts (Canadian Opera Company and National Ballet), 20 minutes
Harbourfront Centre, 25 minutes
Young People's Theatre, 1 minute
Royal Alexandra Theatre, 20 minutes
Princess of Wales Theatre, 15 minutes
St Lawrence Centre for the Arts, less than 10 minutes
Young Centre for the Performing Arts, 12 minutes
Berkeley Street Theatre, 5 minutes
Rainbow Cinemas, 3 minutes
Roy Thomson Hall, 20 minutes
Post-secondary schools
George Brown College, 2 minutes
Ryerson University, 15 minutes
University of Toronto, 25 minutes
Getting out of town
Union Station, 13 minutes
Entrances to Don Valley Parkway and Gardiner Expressway, 1 km
Billy Bishop Airport, 4 km
Take a walking tour!  Click any image to enlarge: